15×30 house plan is the best 1bhk house plan in 450 sq ft plot area. Whether you want to get inspired about how to arrange the place where you live, it can be quite helpful to look at 2D home plans.
Show a variety of ways, beautiful modern home plans are usually tough to find. But these plans from expert designers and architects of DK 3D Home Design made it easy here.
Here is a simple way to showcase our lots of ideas…….
Take a look inside this 450 Square feet small house plan (15'*30' feet), Easy to Build & budget-friendly.
Also read: 25×35 2 story house plan
15×30 1bhk small house plan in 450 sq ft plot area:
This 15 by 30 house plan has features like flexible living space, bedroom space, cooking area, sanitary space, stairway space, and large windows & more. In which, work in a variety of configurations can be done.
Also read: North facing house vastu plan in 1000 sq ft area
Kitchen:
In this 450 square feet house plan, At the front, there is a great kitchen area of size 7'2"x8'10" feet including a storage space of 4'0"x2'3" feet.
A window also provided at the front elevation side to bring free natural light & air inside the kitchen area.
For entry in the kitchen, an arch is provided to gives an excellent interior look inside the living hall. Besides this, there is also another arch provision is made for the basin area.
Also read: 25×40 house plan
W.C. bath area:
In this 15×30 house plan, 4'0"x7'11" feet sized attached WC/Bath space is made. The foremost side of this sanitary area 5'5" feet in width basin passage also provided.
Ventilation purpose small duct is made backward of the toilet/bath.
Parallel to the kitchen unit, there is a Staircase portion provided for easygoing towards the terrace area. Below from which there is an entrance to this flexible house.
Also read: 800 sq ft 1bhk house plan
Living room:
In this 15 * 30 house plan, The living hall entry is from verandah provision having few stairs to it. Application of main door cum window unit at the entry space of living room gives a beautiful exterior appearance to this 450 Square feet small house plan.
Below the staircase area, the free passage is usable for bike parking or any other small purpose you want.
Look out to the main hall, You'll have plenty of space inside the living hall to spend your family time. The size of this informal room is mentioned as 9'2"x9'4" feet In this small modern layout.
Also read: 18×40 small house plan
Bedroom:
This 1BHK house plan has 1 bedroom of size 9'2"x7'10" feet which is fixed at the backside. On the duct side, there is a window provision for the bedroom. Also, read this another 15*30 house plan.
15×30 small 1bhk house plan: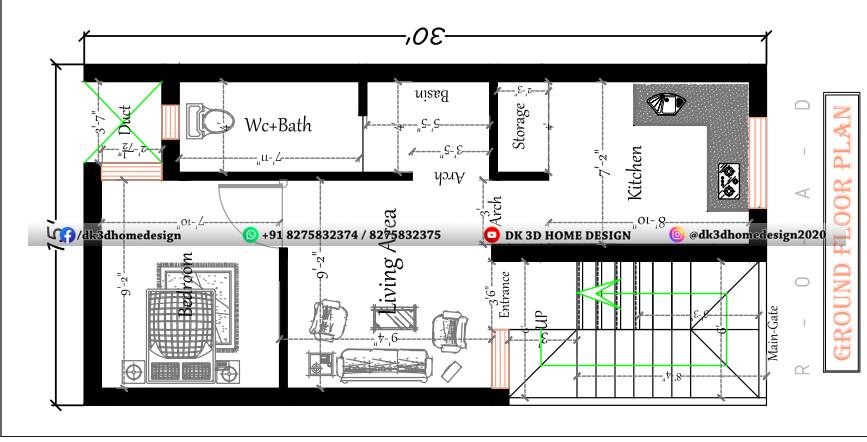 With this house walkthrough, I hope you will get a friendly idea about your dream home.
If you want a new house front design or new floor plan for your dream house then you can contact DK 3D Home design from the WhatsApp numbers given below.
Thanks for visiting our website please share with others
Also, WATCH our YouTube Channel D K 3D HOME DESIGN.